Summit Park Happy Hour is Back!
Our lovely neighbors are coming together to bring back Summit Park's neighborhood happy hour!
UPDATED TIME: The first happy hour will be hosted on Friday, August 19 from 7-9pm at 230 Woodland Drive. Please bring an appetizer and/or drinks to share.
After August, the happy hours will happen each third Thursday.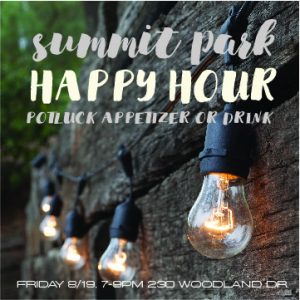 If you're interested in hosting a future event, please get in touch with Rachel: broadbent.rachel@gmail.com