Sign Up: Garlic Mustard Treatment
Message from Sara Jo Dickens:
As many of you know, Summit Park is heavily invaded by garlic mustard, a Class 1B, State listed weed. Garlic Mustard is capable of spreading rapidly and out competing native plants that are critical food sources for wildlife. It also has the potential to increase soil erosion and produces a chemical that halts the germination of other plant species. What you may not know is that there is a program to assist landowners in controlling this weed on their property. This program is funded by the state and implemented through a collaboration between The Summit County Weed Department, Salt Lake Weed Control Program, Salt Lake City Department of Public Utilities Watershed Division, Park City, and Snyderville Basin Special Recreation District.
If you have garlic mustard and would like to have your property treated free of charge, please visit the Summit County Weed Division website (www.summitcounty.org/weeds) and follow the "garlic mustard consent to treat letter" link to sign up for the program. If you are unsure of whether you have garlic mustard, you can contact Sara Jo Dickens 303-549-2089 for a site visit.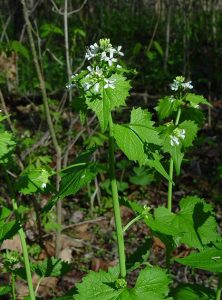 Once you are enrolled into the program, a professional licensed weed contractor will be in your neighborhood this spring and fall to both map and treat garlic mustard with the appropriate herbicide. To be sure you are on the spring list, sign up by May 14th. If you miss this date, you may not get on the spring list, but will be added to the fall list. Please submit a separate consent for each lot you own.  Your personal information will not be shared with anyone
If you wish to be notified with a more specific treatment timeframe. Please contact Dave Bingham for more information at 435-336-3979 or Public Works at 435-336-3970, www.summitcounty.org/weeds
Together, we can slow the spread of this invasive weed! Thank you in advance for support in controlling this invasive noxious weed.