Kid Activity: Sign Painting, June 25, 2017
In an effort to keep our neighborhood safe, and provide a fun activity for kiddos during Dumpster Days, the HOA is inviting Summit Park kids and families to help paint signs that will be posted around the neighborhood. The signs will remind drivers to please slow down and drive safely around Summit Park.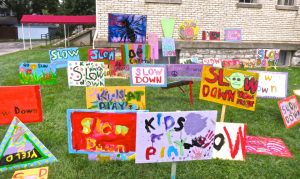 Example of signs (source)
Bring your kids out to Dumpster Days on Sunday, June 25 from 10am-2pm to join in the fun. We will have a section (away from the cars and dumpsters) for the kids to paint. More information below:
What: Sign painting for Summit Park kids
When: Sunday, June 25 from 10am-2pm
Where: Dumpster Days – above the firehouse on the Crestview Drive/Maple Drive intersection
What to Bring: Just you and your kids (and maybe some sunscreen!)
Want to help volunteer at the event? Sign up here.