Fire and Safety – Year in Review
It is a mission of the Summit Park Home Owners Association (HOA) to be vigilant in providing information which assists home owners in mitigating personal and community safety threats. I am proud to say that many of our residents stood up to the challenge and embraced their individual responsibility. There was a significant reduction of accumulated fire fuel on private lots and a collaboration with the County to address traffic safety. Below is a recap of Summit Park's 2016 accomplishments in providing a safer place to live.
Fire Safety:
Under a beautiful sky, we hosted our annual Firewise event with representatives from Utah Division of Forestry, Fire and State Lands; Park City Fire District; Summit County and local private forestry experts
Summit Park celebrated its third year as a Nationally recognized Firewise USA community
There was increased usage of the PCFD chipping program [INCLUDE CHART]
The HOA has reimbursed residents $2,800.00 for dead tree removal around the neighborhood
Toll Canyon fuel break is almost completed with a significant amount of firewood offered free to residents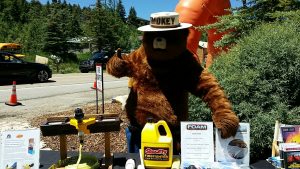 Traffic Safety:
Traffic speed reminder signs were given out to home owners
Summit County Sheriff Department increased its community patrols and presence
Summit County will be painting new road markings alerting drivers to share the road with pedestrians and bikes
Thanks to all of our neighbors who have contributed to these efforts and continue to keep Summit Park a wonderful place to live.
– Mike Quinones, Wildland Fire Coordinator
If you have any questions or want to get involved, please contact Mike at mikeandchrisq@comcast.net.