What is dumpster days?
Dumpster Days is the annual neighborhood cleanup organized by the SPHA.  Members who have paid their annual dues are welcome to dump up to 2 loads in the dumpsters.  The SPHA arranges to have dumpsters available for use just above the firehouse on the Crestview Drive/Maple Drive intersection. The event is fully staffed by volunteers and is one of the most popular SPHA activities.  Please let us know if you would like to volunteer.
When is Dumpster Days?
Dumpster Days is held  in June each year.  Dumpster Days will be held the weekend of June 25-26, 2016. 
What can be put in the dumpsters or recycled?
This year, like last, we'll have a mixture of bins for different purposes. Please try and separate your debris into recyclable and non-recyclable parts.
trash bins
chippable green waste (branches 6" or less)— Green waste should be chippable, <~6" diameter branches, etc. Large logs and treated timber will have to go in waste bins.
metal waste (e.g. fencing, rebar, sheet metal, etc.)
mixed recyclables (like our biweekly home pickup: paper, cardboard, cans, plastic, but NO GLASS)
Recycle Utah will take larger appliances (washers, dryers, cooking stoves, etc.), along with electronics (tv's and computers). Please recycle these at Recycle Utah.
What is NOT accepted at Dumpster Days?
Some items are prohibited by the waste services company. PLEASE DON'T TRY AND DUMP THESE ITEMS BECAUSE THE WASTE COMPANY WILL CHARGE US EXTRA TO REMOVE THEM.
NO concrete, rocks or dirt
NO wet-cell batteries (lead contaminates landfill dirt)- try recycle Utah
NO tires- try Burt Brothers (a fee may apply)
NO big appliances- Recycle Utah will take them
NO hazmat (paint, aerosol cans, fluorescent lights, etc.)
NO e-waste (cell phones, ipods, chargers, microwave ovens, etc.)
What if I have not paid my dues?
Simply bring cash or a check to the dumpster site and a volunteer will be happy to update your membership and provide access to the dumpsters.  Annual membership remains an incredible value at $50!
Reuse or recycle first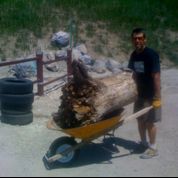 If you have something that you think could be reused but that you no longer want around your house, bring it by Dumpster Days.  We have a FREE "gently used" section, any member is welcome to peruse the goods and take anything of interest.  If no one takes your gently used stuff, it is your responsibility to load it into the dumpsters.  Please do not leave it for the volunteers to clean up.